Is there a perfect time to modernize your mortgage operation? Should you wait until volumes abate, hoping the resulting calm will give you time to plan? Do you wait for the next release of the software platform you've heard about? Or do you hold off until you fill that CTO position you've been advertising? It may be a big (and expensive) step depending on the state of your operation, and you want to get it right.
A well-planned modernization effort does not have to wait for calm waters or open job postings. The industry is well served by companies that do this every day and under any market condition. There is no time like the present.
Here are some insights from the front lines of automation, culled from real-life experiences in working with lenders. Since mortgage operations can cover a lot of ground and we want to make this piece readable, we're going to focus on loan origination. We hope you find these learnings helpful.
1. Team up with an informed and experienced partner
The advantage of working with a technology and services provider is that you'll benefit from their experience, particularly if they have been around for a while. They will have had their share of successes and worked around roadblocks and surprises. Often, they can point to case studies that detail how they addressed similar needs for companies like yours.
Their management representatives will speak your language and be attentive to your needs and concerns. Also, companies with a history in technology and process automation can often bring tools to the table, which can reduce your capital expense outlay.
Should you look for a pure tech company, or one with boots on the ground? We recommend the latter because, inevitably, someone will have to touch a loan at some point to address an exception or fill in a missing piece. And while you may fully intend to internalize the process and technology at some point, that can occur when you and your vendor have rounded off the sharp corners. That way your team can inherit a fully functional system with no kinks.
2. Map processes with an eye for detail
The only sound way to begin a modernization project is by mapping your current workflow—including how you handle exceptions. This becomes the baseline for workflow improvements and technology integration. It also helps you understand the component costs of your current way of doing business.
Process mapping can be incredibly detailed and can require multiple sessions over several days, but it's necessary if you want your modernization effort to cover all the bases. Invariably you will learn things about your current operation that will surprise you ("I didn't know we handled verifications that way"). Be prepared for a map that contains detours, side streets and lots of intersections.
Also, pay attention to "do-overs," where people must circle back to correct errors. These must be eradicated.
This is another area where your technology partner can help you. They have the experience, tools, and resources to extract the steps from the minds of your team members and visually arrange them so replacement processes can be constructed. They will know when to probe for more detail and to uncover exceptions. Again, you want as detailed a process map as possible to prevent rogue tasks and steps from popping up in your modernized approach.
3. Make use of reusable components when modernizing
As tempting as it is to outfit your modernized operation with the latest, shiniest technology, be judicious. It's possible that you already own or license applications and technology capable of getting the job done, so modernization may be more of a software integration project than buy-and-install.
Again, we'll go back to your technology partner: if they have been in business for a while, they may have purchased or built tools and applications that can support your modernized processes. Your components may be integrable with their components, creating new automation steps using applications you're already familiar with, like your LOS or CRM solutions. Your technology partner will have undoubtedly created an Application Programming Interface (API), for many commercial software applications, so this approach can save your capital expense budget.
4. Stay close to the project
A typical modernization project can last from three to six months, depending on the scope of work. Stay close to keep the project to keep it from creeping and veering off course. If you have a technology partner, schedule weekly updates that status progress and demonstrate new processes.
Staying close helps you identify inaccurate assumptions before they become hard-wired into the finished process. It will also cut down on the amount of user acceptance testing, or UAT, you may need to perform.
Keep minutes of meetings and calls and follow up with project participants and meeting attendees with decisions made, tasks assigned, and lessons learned. This will be invaluable for future projects.
5. Measurement is your new way of life
Call it what you will… improved efficiency, faster turn-times, greater productivity. In the end, it's about how much money modernization will save you, which means you must be able to track your costs, ideally at each step of the process. We won't burden you with the intricacies of cost accounting, but we want to offer some recommendations.
During process mapping, you should be able to ascribe costs to individual steps in your process. All the elements are there: labor costs per hour, duration, click fees, amortized technology costs, etc. These tend to be more accurate and detailed than costs interpolated in traditional cost allocation.
The cost impact of your modernization project should be measured over time. You will likely see spending trend downward over six or 12 months as your new processes stabilize. Be patient and stay close to the numbers.
Your technology partner can be immensely helpful in financial benchmarking. They have likely done this before many times and with many clients and should be able to benchmark current spending and dimension with reasonable accuracy where savings can be had.
6. Getting it right vs. getting it done
It's easy to get caught in the trap of creating efficiency for efficiency's sake. After all, time is money. But quality is as important as efficiency, as you want to avoid makeovers and corrections in your new processes. Your refinements should include automated steps like data validation and certification, data normalization and forms verification.
There are specialized applications that provide these services using calls to external databases and AI to measure data integrity. These applications are gold: in addition to saving people from stare-and-compare quality control, they greatly accelerate the pace of mortgage loan processing while ensuring integrity.
Quality is how you will be judged in the marketplace: the quality of your customer's experience, loan quality and loan file integrity are all critical elements of your brand. Ensure that you shine a bright light on quality in the course of your modernization.
7. Modernization is a process, not an outcome
Most business leaders discover that modernizing a process instills an appetite for more. Inefficiencies in parallel and serial processes become more obvious and appear as new bottlenecks as you implement refinements.
You may have started your journey with the assistance of a services and technology partner who guided you through the project. But these are skills that ought to be native to your enterprise.
Enlightened companies will establish a Center of Excellence focusing on technology and/or business processes. Again, your technology partner can be helpful in getting this off the ground, as they likely have established several centers in their own operation. They can also play an advisory role going forward as they engage other clients in the market and observe how the industry is evolving.
Sound modernization projects are evolutionary, not revolutionary. So rather than think about re-inventing your operation, we recommend taking what is already excellent in your enterprise and building on that.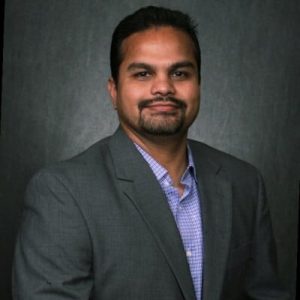 Ramganesh Sankararamaiyer
As Vice President and Market Leader for Intelligent Automation, Ram helps clients succeed in their digital transformation Journeys and realize business benefits.